Michelle Messina Speaker and Educator

Re-visting sex talk in the 21st Century, Michelle Messina says,
"Clothes are to die for, Sex isn't" 2010
I personaly have waited my whole life for my ultimate partner, instead my projects have received all my love
2015 I feel love!
Quannu amuri tuppulìa, 'un lu lassari 'nmenzu la via. Sicilian Proverb
English translation: When love knocks, be sure to answer.
Director Michelle Messina has travelled North America with her short film Fruitful Sex reminding girls and women that it is alright to wait! As a powerful female force, we should learn to assert ourselvs to earn respect and teach men to court us and take time to get to know one another before intimacy.
Michelle was a host speaker at the University of Central Florida, Toronto Worldwide Short Film Festival and many youth retreats. Book Michelle to visit your school to display her movie and discuss merits of waiting. This is a great sex education which goes beyond telling girls to protect themself.
Ontario Ministry of Education has changed the sex curriculum with parents outraged in 2010 and when implemented in 2015, hundereds of parents have pulled their children from public schools. Read more: Sex Education backfires Media Coverage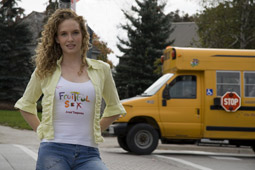 Contact Michelle Messina: e-mail
Full presentation, movie, pamphlets and open discussion
Presentations can be tailored to age and gender
contact Michelle to discuss Fruitful options.